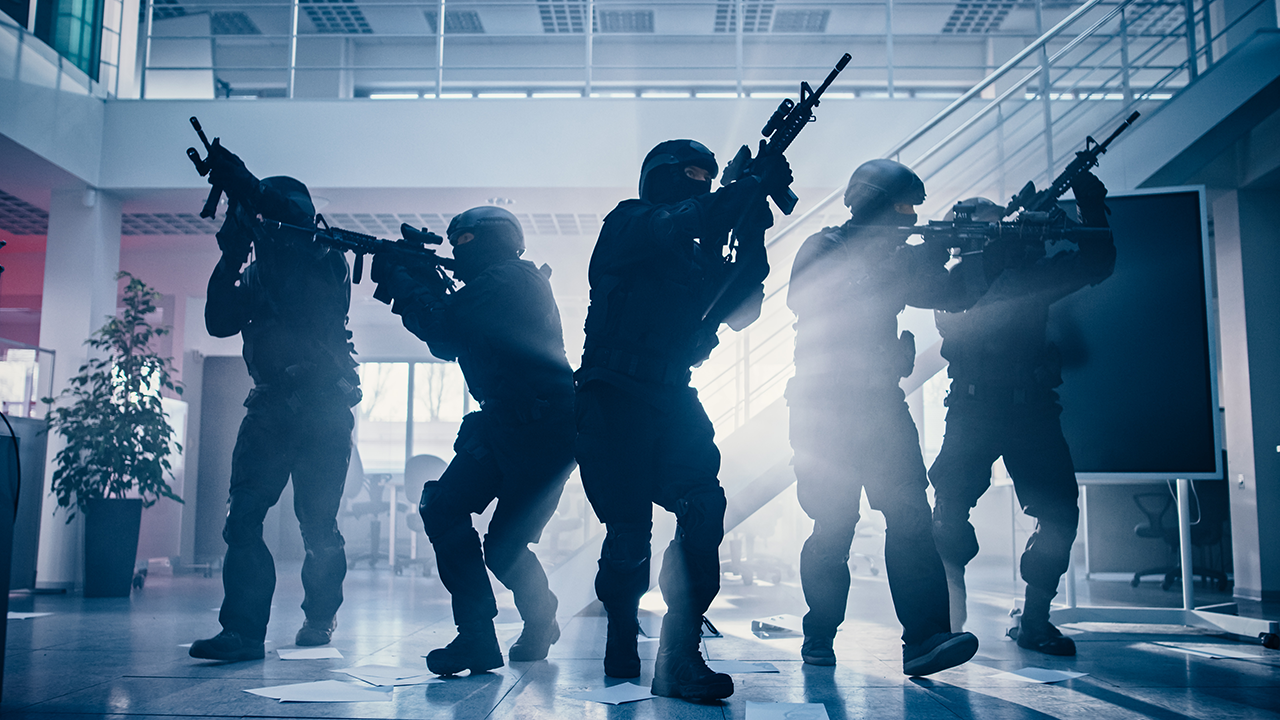 Date
Saturday, January 13, 2024
Force-on-Force Firearms & Weapons Training by Assault Counter Tactics (ACT)
Class Description
Would you be able to survive and protect your family if your house was invaded by one or more armed assailants?  What would you do if you were sitting at a stoplight and someone tried to steal your car or, worse, just got in and told you to drive while holding a gun to your or a loved one's head?  Would you know what to do if you were in a store and a violent offender came in telling everyone to get on the ground or maybe forcing you all to the back into the cooler or a storage room?  These are just some possibilities that have happened in the real world to people just like you and me.
In this intense course, you will gain knowledge and learn what it takes to survive against a real-life violent attacker, just like the ones from the scenarios in my example.  This is not a class where you shoot at paper targets and talk or imagine what could happen. In this class, you will act and learn to control your reactions. We will discuss actual scenarios from police reports and what could have been done to counter the threat possibly.  We will teach you the steps and attitude needed to survive what could be the worst day of your life.
In this class, you will run real-life scenarios, including home invasions, carjackings, robberies, and much more, with live-thinking assailants.  This is no simulation, as you will be fighting against other thinking humans.  Students will be geared up and go up against instructors and other students using training munitions, training knives, and their bare hands to learn to defend themselves in what could be considered the fight of their life should the worst ever happen.
Assault Counter Tactics has the only certified MASTER Trainer in Ultimate Training Munitions and the only certified Master Force on Force Trainer for civilians, bringing the student the most up-to-date realistic force-on-force training available anywhere.
Combined with using UTM in real guns, ACT has available padded assault gear to make training more realistic and safer as well.
The Equipment, the Training, and the Instruction are as close to the real thing as one can possibly get.
Using both UTM® man-marking cartridges, which bridge the gap between the shooting range, shooting at static targets that are not shooting back, and using S.P.E.A.R. ® gear for full force on force confrontation defensive tactics, the student is put through the ultimate training stress inoculation scenarios to prepare someone for real-life violent encounters.
All scenarios are specific to deadly force encounters the everyday citizen could expect to deal with on the street, at home, or in the workplace, in fact, every scenario recreated will be from a real-life situation that has been documented.
Overview:
Home Invasion Counter Tactics
Carjacking Counter Tactics
Parking Lot Assault Counter Tactics
Active Shooter Counter Tactics
Weapons Disarm
Ground Fighting Defense
Multiple Opponents
Team Tactics
Realistic Wound Trauma Care
Equipment List:
Mouth and Groin Guard
Two layers of clothing
All other pieces of equipment to be used are fully furnished.
No Personal Weapons!  We will provide you with weapons that fire Blanks, UTM Training Munitions, and Sirt Guns, Training Knives, etc.
The instructor and other students will be the assailants, and we will teach you how to stop their attacks in different scenarios.  This class will teach you judgment during a stressful encounter.  You will not be firing live rounds, so no personal weapons, please.  We will provide you with weapons that fire Blanks, UTM Training Munitions, and Sirt Guns.
**THIS IS AN ADVANCED COURSE AND NOT FOR EVERYBODY.  IF YOU ARE NOT ABLE TO USE A FIREARM FROM A CONCEALED HOLSTER OR HAVE NO BASIC KNOWLEDGE OF SELF-DEFENSE, WE WILL ASK YOU TO LEAVE AND APPLY YOUR MONEY TO A FUNDAMENTALS CLASS.  INSTRUCTORS WILL HAVE THE FINAL DECISION!**
Cancellation Policy
Students are required to reschedule at least 48 hours in advance of a class date. Classes rescheduled less than 48 hours before the class will forfeit class fees and be required to enroll in a new class. In the event that we cancel, the class students may choose to reschedule or receive a full refund.   A minimum of eight students will be required, or we will reschedule the class.