The Atlantic hurricane season will officially begin on June 1 and end on November 30.  With only a little over a month left before the start of the season don't be one of the ill-prepared Floridians.  With just a little preparation and planning you can ensure your family's safety should a major tropical storm or hurricane hit our coast.  Be prepared whether you evacuate or endure the storm.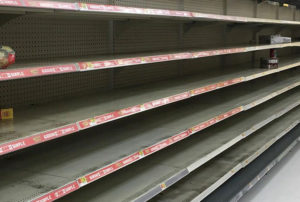 All of us living along the coast here in Florida have either lived through a hurricane or know someone who has.  We have all seen first hand what these storms can do and how empty the shelves at the local big box or super store get prior to a major storm.  That being said don't be left stranded in your house with no water, power, or essential supplies to sustain your family's life.  We have been there too.  During Irma, we were at our house without power and water for three days.  Had it not been for friends and us gathering what supplies we could find at stores prior to the storm it could have been a nightmare.  Since then our hurricane plan has been changed drastically.  I have added a generator to the house and started gathering non-perishable supplies in preparation for the worst. I have also started stocking essentials for survival in our store.  
WJS Outdoors
has these five-day survival backpacks in stock.  These backpacks have everything you need for survival from first aid necessities to waterproof matches and a deck of cards.  They even include 32 servings of entrees to keep you replenished and energized for the days ahead. A portable stove is also included to cook meals on or boil water.  They even included a waste bag and poncho.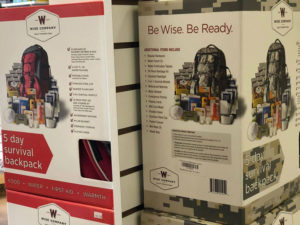 For your convenience, we also have 52 meals locked-in stacking five-pound buckets for compact and secure storage without the need of shelving.  The food is safely sealed in Metallyte™ pouches with a 25-year shelf life. Each bucket has a sturdy grab and go handle for easy transport in an emergency.  To avoid waste, each pouch conveniently contains four servings and there are four entrees, two breakfasts and two beverages making for a total of 52 servings.  There are four servings of each tasty item to choose from like creamy pasta and vegetable rotini, savory stroganoff, tomato basil soup with pasta, southwest beans and rice, brown sugar and maple multi-grain, apple cinnamon cereal, 16 servings of orange delight drink mix, and 12 servings of a whey milk alternative.  We will be stocking single packs and small camping packs for your short weekend outing or day hike.  Just want to try it come on in and pick yourself up a few single meals.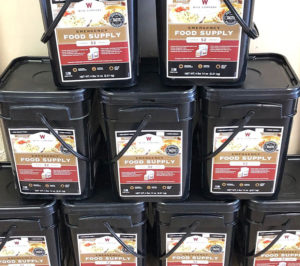 There are even survival packs for your beloved pets.  Each of the pet survival kits is packaged in multi-pocket hikers backpacks and have been designed to provide your pet with all of the necessary items to survive if you are forced to evacuate.  The pet backpacks even contain toys, an emergency survival blanket, body warmer, and deluxe first aid kit for your furry family member.  The pet backpacks are made for cats and dogs so no matter which fur baby is part of your family rest assured there is an emergency backpack to suit their needs.  So before the hurricane season hits come in and see us at 
WJS Outdoors
 on Merritt Island to pick up your survival supplies and be ready to ride out the storm!