By: Alan Jenkins
Picking back up where I left off at. The Radical Firearms 7.5-inch AR pistol is a blast to shoot! It just wasn't what I wanted it to look like, so the first place I started was the buffer spring tube. I didn't like that when I shot it felt as if I was getting poked in the shoulder every time I shot. So, I looked for a forearm brace that I liked and would fit the minimalist sleek look I wanted. I didn't want to add too many things to it, and I didn't want it to be heavy. It was hard finding something that looked good and didn't look gaudy.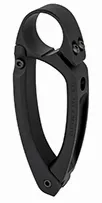 After hunting for a while, I stumbled on to the Gear Head Works Tailhook Mod 1. I liked the sleek minimalist look and the fact that it was machined from billet aluminum. It clamps onto the pistol buffer tube with it being less than an inch thick and weighs only 4.5 oz. So yeah, I smashed that buy button and waited for it to come! When the day came, I tore into the box like a kid on Christmas day, I ran and grabbed my pistol and hex wrench that came with it and went to put it on…. Umm, it didn't fit. It was a smaller diameter that the buffer spring tube that was on the gun. I went back to their web site and there it was telling me 1.17″ to 1.2″ in diameter for the internal diameter for it to fit. So, I went out and found the KAK Tailhook Pistol buffer tube. I liked the way it looked and that I never had seen it before. After I made sure it would work on the Mod 1 and on my pistol, I bought it.

When the KAK Tailhook buffer tube came. I loved the way it looked and felt in my hand. I took apart my pistol and installed it on the lower. When I tested it, I found it to be a little longer than the one it came with by about 1 – 1 ¼ in. But for me that was great, I'm a large guy to start with so it fit me better. I loved the fact that there is a notch cut out on the end, so the Mod 1 sits almost flush on the tube.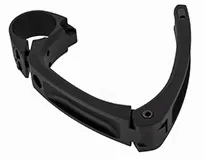 Next, the fun part, the Mod 1. I love that because I have larger fore arms and I hate sliding my arm into a small brace, now all I need to do is push a button and out pops the side arm. Now my arm sits in a cradle and when I'm done, I can push it back up and it locks back into place, so it won't catch on my back when I take it to the range. It will work for right and left handed shooters or if you are wearing a large coat.
The first chance I had, I took it out and shot it. It worked perfectly! It was light and when I put it up to my shoulder to shoot, it felt good. It didn't poke me or make shooting awkward. All my friends wanted to shoot it after I pulled it out of my bag and people on the range were asking me what it was and where they could get the Mod 1 and buffer tube for their pistol. Stay tuned for the next part.