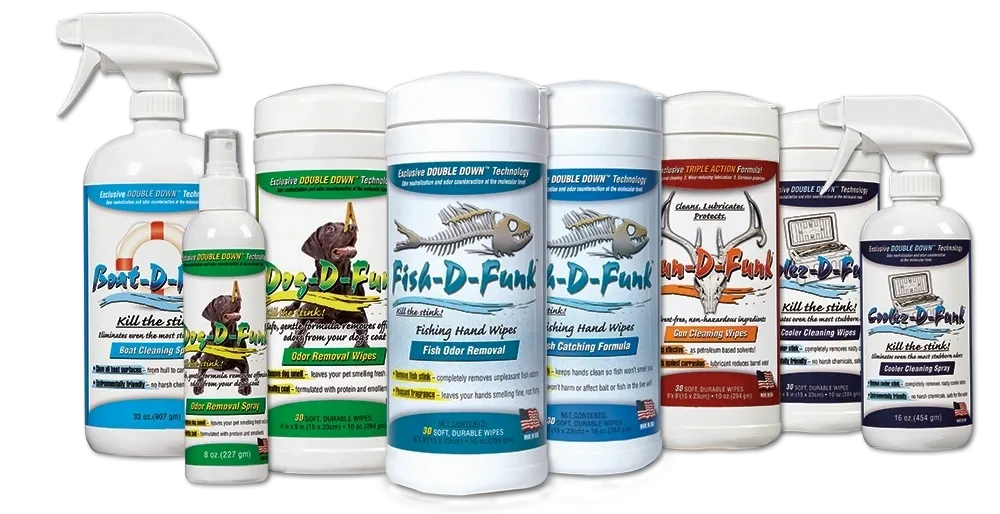 There are countless odor elimination products on the market today. The better ones use either odor neutralization technology or odor counteraction technology. Both technologies work at the molecular level and both are effective. But nobody had successfully combined these technologies until D-Funk! Even more remarkable is the fact that D-Funk odor eliminating products are environmentally safe and free of harsh chemicals. This allows them to be used in and around water and on humans and pets without concern. The first D-Funk product was an odor removal wipe for fishermen that quickly caught on because it was the only product available to remove stubborn fish odors from their hands.
As a charter Captain take it from me, Boat-D-Funk is versatile and really works! It will remove stubborn mold and mildew, rust stains, dirt, grease, etc. It will keep everything in your boat looking new and smelling fresh! Boat-D-Funk is not only remarkably effective, but it's also safe to use Boat-D-Funk in your bait well and live well. The unique formula is free of bleach and harsh chemicals so you can use it on-board with no concerns.
Do you bring home a smelly dog from your day out hunting, fishing, or maybe just playing on the beach or lake? You know that smell that you can't get rid of without thorough bathing. Well, not anymore because Dog-D-Funk wipes and sprays really work. It's completely safe, extremely gentle and environmentally safe too. There are no harsh chemicals and absolutely nothing that will harm your pet. Dog-D-Funk will leave your pet's coat smelling fresh and clean. The fragrance is light and pleasant so it will not leave your dog smelling like perfume. It is formulated with protein and emollients for a healthy, shiny coat. Dog-D-Funk also works great for cleaning your dog's feet!
The secret behind Cooler-D-Funk's amazing ability to counteract stubborn odors is Double Down Technology which both neutralizes and counteracts odor at the molecular level. It's bleach-free and contains no harsh chemicals. In fact, you can use Cooler-D-Funk in your boat, on your dock, or at the cabin without concern. And, it rinses clean with no residue.
Gun-D-Funk's exclusive solvent-free, non-hazardous formula cleans your firearm twice as effectively as petroleum-based solvents. A special additive allows it to penetrate to areas other products just can't reach! Gun-D-Funk features a special lubricant that reduces bullet to barrel friction for reduced barrel wear. It also makes future cleaning far easier. It leaves a thin protective film that reaches more of your firearm to prevent corrosion and rust during storage. We not only sell the products we use them so we know they work.